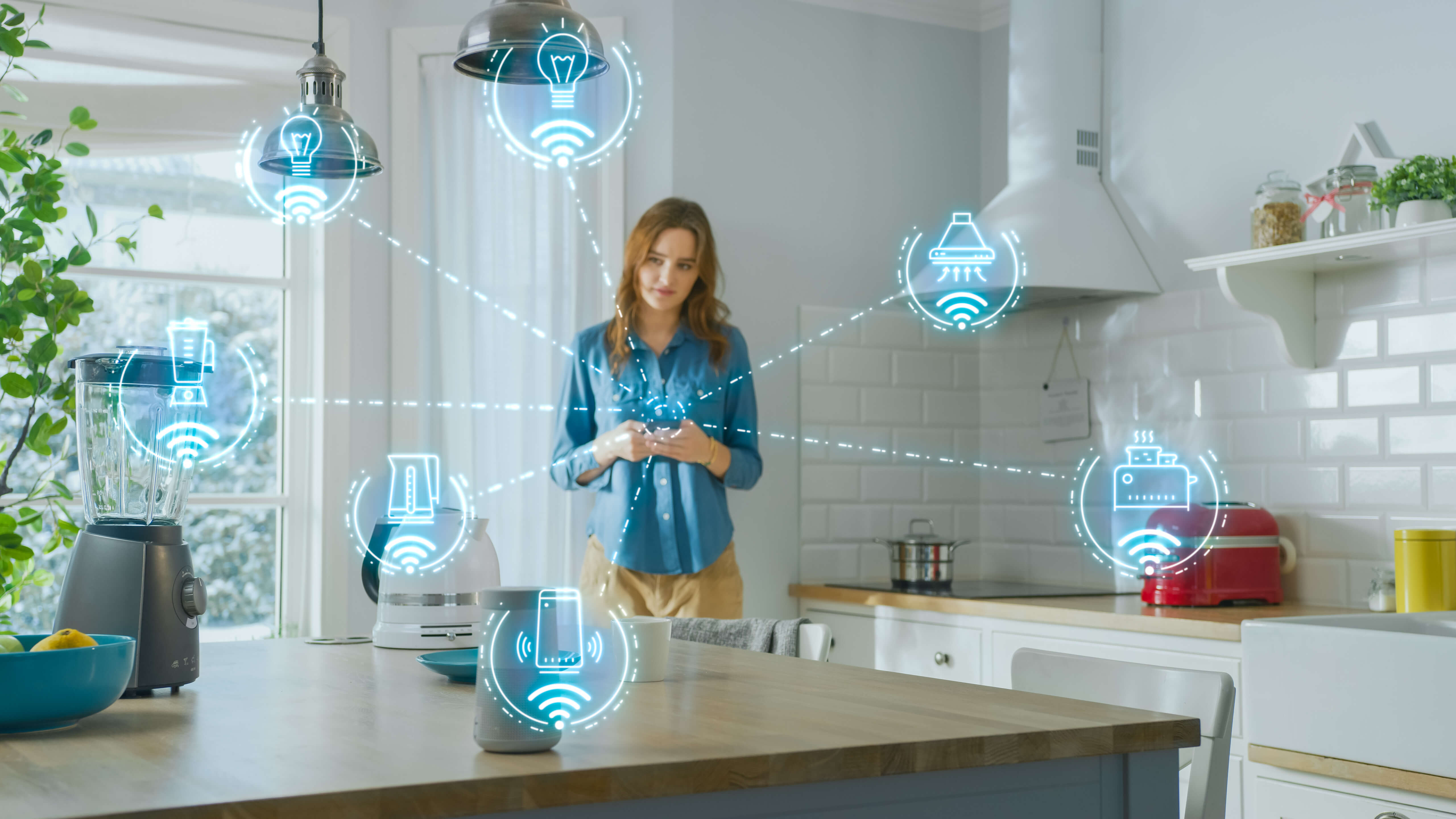 The days of Wi-Fi that only provides additional internet coverage in your home or office are gone.
More and more connected devices and the adoption of cloud-based applications are driving the necessity for ultra-fast speeds both for downloading and uploading. This requires a Wi-Fi solution that can help deliver these speeds consistently to every corner of the home of office - while also providing new levels of security and control.
Connection
The latest Wi-Fi solutions need to be able to monitor detected Wi-Fi signals and intuitively connect your device to the most stable Wi-Fi channel. So, wherever you are in your home or office, you can always get the best signal. As you move, your Wi-Fi simply finds the best channel to ensure you're not losing signal.
Instead of having dead zones, constant dropouts or reverting to using your mobile, your Wi-Fi solution should ensure you can do the things you need to do online, regardless of where you are located in your home or business, or how many other people are using the Wi-Fi.
It's common in apartments or businesses to encounter many Wi-Fi signals and this causes interference with your Wi-Fi signal. The interference reduces the coverage and quality of the Wi-Fi experience by constantly monitoring neighbouring Wi-Fi signals and automatically connecting devices to Wi-Fi channels that are stronger or not being used.
Security
New, state-of-the-art Wi-Fi security features can ensure you have the peace of mind of knowing your data is protected - even your physical home or business environment is protected. These features provide always-on digital and data security for every device in your network.
Using cloud-based AI, the Wi-Fi solution can classify devices to develop a whitelist of expected behaviour. For example, what is normal behaviour is different for a baby monitor, a laptop and a smart TV. If unusual traffic is detected, it can be quarantined or blocked for a particular device. And because it uses cloud-based AI, it is continuously up to date with new devices, new behaviours and – most importantly – new threats.
In addition, they can also provide physical protection in your home or business via motion detection features. You can set motion alerts when you are out of the home or business that identify movement within the physical Wi-Fi coverage area and notify you if there is any unusual activity.
And as people come and go from your home or business, you need to be able to create guest passwords that determine what devices they can access with expiration dates for extra security.
Control
Smartphone apps are providing new levels of control, providing a dynamic view of your home or business network.
They offer the ability to be able to see the strength of your signal and identify any issues on the network, see connections to different devices switching in real-time and check download and upload data of active devices.
They also offer a more extensive range of parental controls. Not only can you enable standard content filters, but also balance individual screen time, including time-outs or selected freeze times across any or all devices.
Plug and Play
The latest Wi-Fi solutions need to be easy and quick to install - without the need for a technician or cabling. Gone are the days of untidy, long power leads. Large Wi-Fi devices are being replaced by stylish, much smaller solutions which simply plug into existing power sockets. With busy lives and an increasing reliance on our internet solutions, people are looking for smarter, easy to install and easy to use solutions.
GigaComm's Intelligent Plume Wi-Fi
Increasingly smart homes and businesses require smarter, more adaptive Wi-Fi.
GigaComm's Intelligent Plume Wi-Fi is an award-winning solution that offers consistent connection, security and control for your home or business.
Powered by tri-band Wi-Fi hardware with auto-channel optimisation technology, your GigaComm Plume Wi-Fi solution works seamlessly with your GigaComm Gigabit ready router.
Your GigaComm Plume SuperPods are installed using the GigaComm Plume HomePass App. Once installed, the App enables you to see your network and provides a range of intuitive tools for managing users, devices and internet access wherever you are.
And, with automatic cloud-deployed updates, you are continuously up to date with new devices, new behaviours and any new threats, so you know your GigaComm Plume SuperPods are continuously delivering the best Wi-Fi experience for everyone in your home or business.
In the words of a GigaComm Plume Wi-Fi user,
"We love the Plume technology and the HomePass app. It allows us to control the users and devices per room. Internet services can't get any easier and better than this."